Professional Carpet Cleaning
We love Cleaning Carpets, from a small bedroom to a large commercial premises, we have the same commitment to providing the best quality service for your money.
About our Carpet Cleaning Service
Here at Arcadia Cleaners we strive to give all our customers, both domestic cleaning and commercial cleaning customers, a professional service – From the initial phone call we receive from you, to leaving your premises, we like to do things right.
Carpet cleaning survey
We start with the survey. First things first, we need to identify what we are cleaning, ( I know what you're thinking, it's just a carpet) different fibres and carpet backing need to be identified so we can clean better and safer.
You clean your clothes by looking at the label and then sorting them out into different piles, well it's the same for carpets and upholstery. For instance, if your carpet has a woven backing it is susceptible to shrinkage and we wouldn't want that to happen. Also some fabrics can colour run, this means they may be unstable to certain carpet cleaning solutions.
All these things need to be diagnosed before a safe clean can commence.
Once we have the all clear to clean your carpets and furnishings, we arrange a suitable time and commence cleaning
Our carpet cleaning process
After vacuuming, (if needed) we apply a mild pre spray to loosen the soil.
This is then agitated into the carpet to get deep down into the fibre.
Then we rinse your carpets (with a mild rinse, this neutralises the pre-spray, leaving your carpets PH balanced and with no sticky residue which can cause rapid re-soiling ) and extract as much moisture as possible using the power of our professional portable carpet cleaning machine. Not only does the power extract most of the water but it also lifts the pile, making it look and feel in quite a lot of cases, nearly new again.
Your carpets are now clean and slightly damp, so we can (if you need ultra fast drying) move in with the air movers. To dry a carpet we don't use heaters, we use air movers. These circulate air through the carpet and dry them in hours instead of days.
So there you have it, we are sure you will find our carpet cleaning services the best you've had and hopefully you'll recommend us to all your friends and business colleagues.
Benefits of using Arcadia Cleaners for Carpet Cleaning
We use a high powered carpet cleaning machines to clean your premises quickly, effectively and safely.
We are fully trained in advanced spot and stain removal techniques, even if you've had another cleaner in who couldn't remove some of your stains, there's a good chance we can.
Although we do not claim to be able to get every stain out of your carpets – we certainly try our best using special professional solutions including chemical techniques for stains that just can't be cleaned but can be turned invisible to the naked eye
The carpet is rinse extracted under high pressure to get to the deepest ingrained dirt within your carpet pile before being dried by our air movers.
Our 6 stage carpet cleaning process utilising advanced  machinery and the latest chemcials and solutions is guaranteed to make sure every one of our customers gets a quality service.
We are your local friendly, family run carpet cleaning business contact us for advice and a quote today.
Get a FREE Carpet Cleaning quote today
You can Call Paul on 07477918967 For a quick way to get a quote for your carpet cleaning needs
OR
Fill in the form to get a quote by email
Quality training & commitment
We know you're going to get the best clean possible for your carpets because we've trained hard and invested heavily to  be the best at what we do. We are Woolsafe approved so will never use harsh chemicals that can damage wool. – so you the customer can be assured of the same consistently great service every time – and we know you will want us back again in the future!
High performance equipment
We use high power extraction systems to release the dirt and dust deep in your carpet, we have an extensive range of cleaning solutions to break down the different types of stains and soil particles, and we have experience and training to use the right carpet cleaning solutions to maximise our results.
Professional carpet cleaning Service
This attention to detail sets us above the rest. We offer better results and faster drying times, which in turn lets you get back to your daily routine faster. Whether you need a (highly recommended) yearly freshen-up or the cleaning of a completely filthy carpet, we know we can put a smile on your face with the results of our carpet cleaning service. Stop searching for an affordable domestic carpet cleaner – contact us – the North West's best carpet cleaners, for a free quote and advice!
Expert Spot and Stain Removal Service
We are fully trained in advanced spot and stain removal techniques, even if you've had another cleaner in who couldn't remove some of your stains, theres a good chance we can. All though we don't claim to be able to get every stain out, we certainly try our best using special professional solutions including chemical techniques for stains that just can't be cleaned but can be turned invisible to the naked eye. Our saying is…"if we can't remove it then no one can".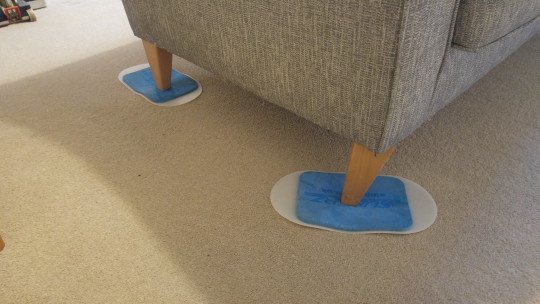 We use sliders to protect your carpets and furniture from damage while we are cleaning your carpets to a high standard.
After cleaning your carpets we use air movers to speed up the drying process meaning you can get back to normal as soon as possible. 
We charge a fair price for our services, like for like we believe we offer the best value for money for carpet cleaning and upholstery cleaning in Cheshire. Our machinery allows us to clean deeper than our competitors so your clean lasts longer, we leave your carpets dryer than our competitors, our ongoing training programmes allow us to identify stains and how to treat them better than our competitors and therefore producing a far superior clean. So now our price becomes true value for money. Beware of low low prices, you will get companies turning up with low powered machines, no training so they could leave your carpets worse than when they arrived, carpet will probably be soaking wet, and worse of all, if they are cheap then they aren't getting paid much so you have to ask the question, would you want someone who is low paid snooping around your house unattended. Trust is our middle name, guaranteed.
Our Carpet Cleaning Promises
We promise to clean your carpets to a far superior standard than DIY or cheaper so called professionals, you really can tell the difference when you've had an Arcadia Cleaners clean!
We promise to leave your carpets slightly damp. NOT soaking wet, like some will leave them.
We promise to rinse your carpets thoroughly after we have cleaned them to rinse them of soiling and cleaning solutions. This gives you a longer lasting clean.
We promise to treat your home and you with respect. It's your home and we work for you.
We promise to utilise all our training to attempt every possible technique to get your carpets as clean as possible.
We promise no hard sell, we give you a price and if you're not happy we will bid you good day.
We promise you true value for money, a fantastic superior clean at an affordable price
What areas do we cover for Carpet Cleaning?
We provide carpet cleaning to most areas in Cheshire including…
Northwich
Middlewich
Sandbach
Crewe
Nantwich
Knutsford
Macclesfield
Holmes Chapel
Mid, East and South Cheshire
Can we provide an anti-bacterial treatment?
Yes in those situations where antibacterial chemicals are needed to kill bugs and bacteria in carpets and upholstery we use various professional and advanced chemicals including Clensan from ProChem – One of Europe biggest carpet cleaning chemical suppliers. Clensan acts on bacteria and bugs in your carpet and upholstery fibers and can help reduce smells associated wish water leakage, pets, chemical spills and smoke smells.
What Cleaning Equipment do we use?
We use a high powered machine to clean your premises quickly, effectively and safely. We first apply a cleaning solution carefully matched to suit your particular type of carpet or upholstery fibres, before agitation to loosen dirt and soils. The fibres are then hot water (steam) extracted under high vacuum pressure to get to the deepest ingrained dirt and stains extracted, leaving your carpets & upholstery, almost if not completely dry when we finish.
There are a number of different ways we can clean your carpet, We will assess your needs the carpet type and your circumstances and then decide which option best suits you and your needs. We also use our many years of experience, the most advanced equipment and a lot of care and attention to clean your carpets effectively and safely.
How much does it cost to clean my carpet?
Every job is different and unlike many companies that offer a set price per room and then cut corners to make a profit – we prefer to provide a free and no obligation survey / quote so that you the customer knows exactly what you're paying for and can appreciate the professionalism and attention to detail we show. But we are sure you will be impressed by the affordability compared to national carpet and hard floor cleaning chains, and the outstanding results and attention to detail you can expect from us, as a family-run business.
How long will my carpets be wet for?
Well certainly not days with our method, we use high powered industrial carpet suction machines which get far more water out than most other carpet cleaning machines.
This all depends on fibre type (ie wool is far more absorbent that poly types) length of fibre, ventilation and humidity, amount of carpet cleaned and the weather,
But as a guesstimate we say anything from 4 to 8 hours.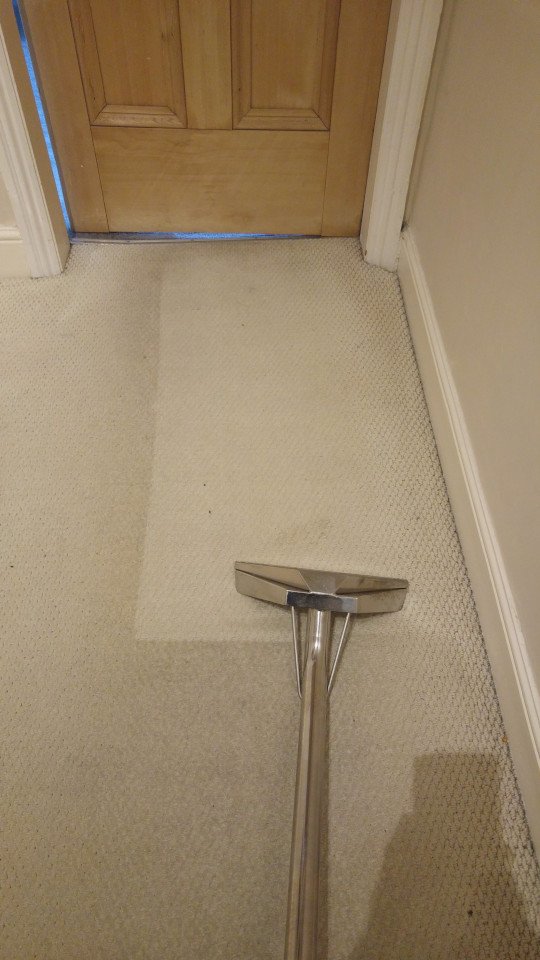 I've heard carpets get dirty quicker after being cleaned, is this true?
If you pay someone who only has limited knowledge about carpet cleaning, your carpets will get dirtier quicker. Some people are tempted by price as they see carpet cleaning as just throwing some soap down and sucking it back up again
This leaves detergent residues in your carpet which are sticky and will attract soil quickly
Imagine washing your hair with shampoo and not rinsing it out after wards, your hair would very quickly become dirty
We clean professionally, a pre spray of non-foaming detergent is applied to the carpet, we then mechanically agitate the pre spray to make it work harder without having to drench your carpet, this also revives the fibres, then we rinse extract with hot clean fresh water and suck up all the dirt and remaining cleaning solution leaving your carpets freshly cleaned and rinsed. Your carpets (with care) will remain fresh and clean for a lot longer than the quick/cheap method. saving you £££'s in the long run.
Do you use harmful chemicals?
No, most of the cleaning solutions we use are no more harmful than what you would put in your washing machine, the only difference is we use none foaming solutions which are easier to rinse out. The products we use are child and pet friendly too!
As already mentioned we are Woolsafe approved members and use Woolsafe approved products when cleaning wool for your peace of mind.
Also we are dedicated to managing our impact on the environment by trying wherever possible to use environmentally friendly carpet cleaning products and methods – and at no additional cost to you.