Professional Upholstery Cleaning
We love Cleaning Upholstery, from an arm chair to a corner sofa, we have the same commitment to providing the best quality service for your money.
About our Upholstery Cleaning Service
Using advanced  carpet and upholstery cleaning equipment, Arcadia Cleaners provide a variety of furniture and upholstery cleaning services across Cheshire, Crewe, Northwich and surrounding locations.
Upholstery cleaning survey
We start with the survey. First things first, we need to identify what we are cleaning, ( I know what you're thinking, it's just a sofa) Upholstery comes in a wide variety of materials and we need to identify what fibres it is made from so we can clean better and safer.
You clean your clothes by looking at the label and then sorting them out into different piles, well it's the same for carpets and upholstery. For instance, if your sofa is made from cotton it is susceptible to shrinkage and we wouldn't want that to happen. Also some fabrics can colour run, this means they may be unstable to certain upholstery cleaning solutions.
All these things need to be diagnosed before a safe clean can commence.
Once we have the all clear to clean your upholstery we arrange a suitable time and commence cleaning
The upholstery cleaning process
After checking the fibres of your valuable furniture, we proceed to use specialist fabric cleaning detergents and stain releasing formulas, which releases all the soiling from the fabrics.
We then use a specialist upholstery tool (at the correct temperature and water flow rate for your specific fabric), rinsing the solution out and leaving them PH neutral.
This flushes out the soiling, odours and brings your upholstery back to life, with minimal wetness thanks to the specialist upholstery tool and our powerful vacuum. This gives us drying times of hours instead of days, and using air movers to disperse the left over moisture, leaves your upholstery (in some cases) dry and ready to sit on as we leave.
Advanced training and extensive experience, and a dedication to offering the highest quality service, conveniently, safely and reliably delivered to your home or business premises. We use industrial strength vacuum wet extraction systems. That means powerful suction & Rapid Drying.
Benefits of our Upholstery Cleaning service
We've got over 39 years of experience between us, we have also attended lots of training courses and have a vast amount of knowledge about textile and cleaning upholstery safely and to a high standard
We use professional equipment and specialist tools to give your sofa and arm chairs the best clean possible all whilst taking our time to give you the best sofa cleaning service.
We are hardworking and pride ourselves on being polite, reliable and providing our service at a convenient time that suits you.
We are members of Woolsafe and TACCA for your peace of mind, knowing the person working on your soft furnishings is capable, trustworthy and using industry standard equipment and products.
We provide all types of upholstery cleaning services, including cleaning Corner sofas, 3 – piece suite cleaning, cleaning of arm chairs and furniture. 
Both domestic Upholstery cleaning and Commercial Upholstery cleaning.
Get a FREE Upholstery Cleaning Quote Today
You can Call Paul on 07477918967 For a quick way to get a quote for your Upholstery cleaning needs
OR 
Fill in the form to get a quote by email
Our Upholstery Cleaning Service
Trained upholstery cleaning technicians available across Cheshire:
We have also invested heavily in training for our carpet cleaning, rug cleaning and upholstery cleaning services, so we can clean safely and effectively to give the best results possible, wool and acrylics plus lots of other types of fabrics respond differently to different cleaning solutions, so knowing what you are cleaning before you begin, is critical.
We are trained to identify hidden dangers like colour run, shrinkage and specialist fibres
Upholstery Cleaning Cheshire
Utilising our expert training and the same advanced high vacuum extraction equipment, but with tools tailored for your upholstery and furniture rather than your carpets, means faster drying times so you can get back to life as quickly as possible.
Searching for reliable and professional Cheshire Seating cleaning services? Contact us today for more information.
You really need to know what you are doing to clean upholstery safely
Believe it or not – it takes longer to clean a 3 piece suite than it does to clean a 3 bed house full of carpets, why? Because material sofas need care and attention when cleaning them, upholstery can't just be rinsed with water and then extracted like carpets can. They are woven from fine fabrics which need time, commitment and extensive training to achieving an excellent result, something that we adhere to when it comes to our soft furnishings & upholstery cleaning service in Cheshire.  Domestic couch upholstery cleaning Cheshire – contact us for a quote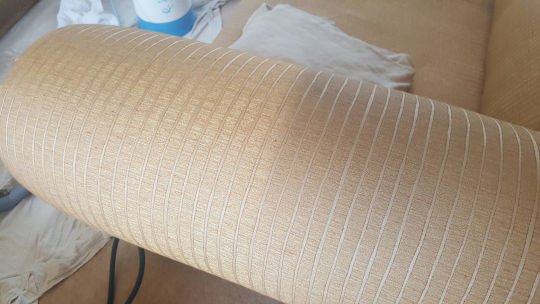 During Cleaning of a sofa arm of a 3 – piece suite that was made by Duresta – Known for their fine fabrics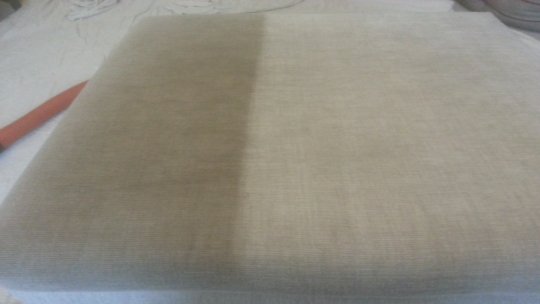 During Cleaning of a linen sofa cushion, We can transform your soft furnishings and bring them back to life
What equipment do you use to Clean Upholstery?
We use a high powered machine to clean your upholstery quickly, effectively and safely. We first apply a cleaning solution carefully matched to suit your particular type of upholstery fibres, before agitation to loosen dirt and soils. The fibres are then hot water (steam) extracted under high vacuum pressure to get to the deepest ingrained dirt and stains extracted, leaving your upholstery, almost if not completely dry when we finish.
Can we provide an antimicrobial treatment for Upholstery?
Yes in those situations where antibacterial chemicals are needed to kill bugs and bacteria in carpets and upholstery we use various professional and advanced chemicals including Clensan from ProChem – One of Europe biggest carpet cleaning chemical suppliers. Clensan acts on bacteria and bugs in your carpet and upholstery fibers and can help reduce smells associated wish water leakage, pets, chemical spills and smoke smells.
What areas do we cover for Upholstery Cleaning?
We provide carpet cleaning to most areas in Cheshire including…
Northwich
Middlewich
Sandbach
Crewe
Nantwich
Knutsford
Macclesfield
Holmes Chapel
Mid, East and South Cheshire
Our Upholstery Cleaning Promises
We promise to clean your soft furnishings to a far superior standard than DIY or cheaper so called professionals, you really can tell the difference when you've had an Arcadia Cleaners clean!

We promise to leave your textiles slightly damp. NOT soaking wet, like some will leave them.
We promise to rinse your suites thoroughly after we have cleaned them to rinse them of soiling and cleaning solutions. This gives you a longer lasting clean.
We promise to treat your home and you with respect. It's your home and we work for you.
We promise to utilise all our training to attempt every possible technique to get your sofas as clean as possible.
We promise no hard sell, we give you a price and if you're not happy we will bid you good day.
We promise you true value for money, a fantastic superior clean at a competitive price.
How do we clean Upholstery?
There are a number of different ways we can clean your furniture textiles, We will assess your needs the material type and your circumstances and then decide which option best suits you and your needs. We also use our many years of experience, the most advanced equipment and a lot of care and attention to clean your carpets effectively and safely.
How much does it cost to clean my Sofa?
Every job is different and unlike many companies that offer a set price per suite and then cut corners to make a profit – we prefer to provide a free and no obligation survey / quote so that you the customer knows exactly what you're paying for and can appreciate the professionalism and attention to detail we show. But we are sure you will be impressed by the affordability compared to national carpet and hard floor cleaning chains, and the outstanding results and attention to detail you can expect from us, as a family-run business.
How long will my Sofas be wet for?
Well certainly not days with our method, we use high powered industrial suction machines which get far more water out than most other upholstery cleaning machines.
This all depends on fibre type (ie natural fibres are far more absorbent than man made fibres such as polyester and acrylic) thickness of fibre, ventilation and humidity, amount of area cleaned and the weather,
But as a guesstimate we say anything from 4 to 8 hours.