Professional Rug Cleaning
We love Cleaning Rugs from Persian Antique rugs to Modern stylish rugs. We are committed to providing the best rug cleaning service for your money.
About Our Rug Cleaning Service
Using specialist rug cleaning equipment and years of training, we provide an off site dedicated rug cleaning service for local customers based in Cheshire, Stoke, and surrounding areas
Rug Cleaning Pre-Inspection
We start with taking the measurements of your rug to find the area to work out the cost of cleaning your rug(s) We also need to check the construction of your rug as we clean different types of rugs in different ways to get the best results for that type of rug.
We'll check the fibre content to match it to the best cleaning products for best results, Just like our carpet cleaning and upholstery cleaning, when we clean wool rugs we use woolsafe approved cleaning products.
We will also check for any pre-existing issues such as Abrash, stains, loose backing fraying edges etc.. we'll advise you accordingly on how best to help with these issues, how we can treat them (where possible) and how prevent further issues.
Once you are happy for us to proceed with cleaning your rugs we'll get to work bringing them back to life. 
We have an extremely thorough rug cleaning service using a 12 step process that can only be completed off site in our purpose built cleaning spa. We use specialist rug cleaning equipment that can't be brought into your home. We have a thorough dry soil remover process followed by our wet cleaning process and then we have a purpose built drying room that can speed dry rugs so that we can avoid any issues that can be caused by not getting your rug dry quick enough. Once it's dry we complete a final inspection and let you know it's ready collect or be returned.
The benefits of using our Rug Cleaning Service
Whether you have an Oriental, Persian, Wool or traditional modern rug, they are all valuable possessions that deserve to be cleaned with care and kept at their finest. Combined with all our years of experience, our investment in training and equipment to make sure we stand out from the crowd as an outstanding local service provider and continue to build a great reputation for our carpet, upholstery and rug cleaning services across Cheshire and Stoke.
We have our dedicated rug cleaning spa with specialist rug cleaning equipment, where we can provide thorough off-site cleaning  and repairs.
We are Woolsafe approved service providers and woolsafe approved cleaning products.
We specialise in fine textiles such as silk and viscose. Sheepskin rugs are also and area we specialise in and we also over a repair and restoration service. 
Most of the soil in a rug is found deep down at the base where no carpet cleaning machine can even dream to reach, this is why we take your rug away to our unit in Hartford Cheshire. This way we can thoroughly clean your area rugs to an amazing high standard. This stops your rug for getting dirty really quickly, Choose Arcadia rug spa for all your Persian Carpet cleaning
Get a FREE Rug Cleaning Quote Today
You can Call Derek or Sian on
01606 882712
For a quick way to get a quote for your Rug cleaning needs OR Fill in the form to get a quote by email
Our Rug Cleaning and Restoration Service
Trained Rug cleaning technicians.
We have also invested heavily in training for our carpet cleaning, rug cleaning and upholstery cleaning services, so we can clean safely and effectively to give the best results possible, wool and acrylics plus lots of other types of fabrics respond differently to different cleaning solutions, so knowing what you are cleaning before you begin, is critical.
We are trained to identify hidden dangers like colour run, shrinkage and specialist fibres
You really need to know what you are doing to clean rugs safely
Believe it or not – it takes longer to clean a large rug properly than it does to clean a 3 bed house full of carpets, why? Because rugs need care and attention when cleaning them, rugs can't just be rinsed with water and then extracted like carpets can. They are densely woven from fine fabrics which need time, commitment and extensive training to achieving an excellent result, something that we adhere to when it comes to our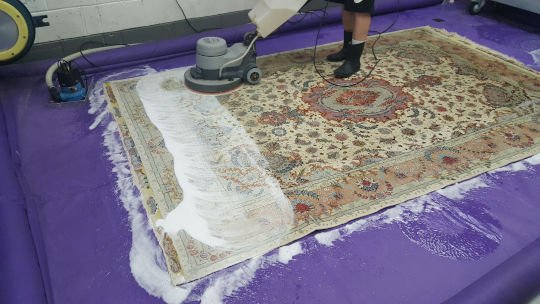 During Cleaning of a Tabriz Persian Rug – A rug made in Iran with fine wool and silk highlights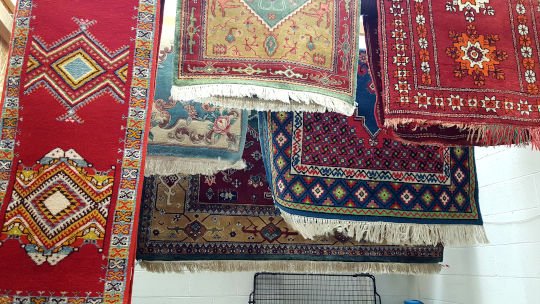 A selection of Persian, Chinese and Oriental rugs drying after being cleaned in our drying room.
What areas do we cover for Rug Cleaning?
We provide carpet cleaning to most areas in Cheshire including…
Northwich
Middlewich
Sandbach
Crewe
Nantwich
Knutsford
Macclesfield
Holmes Chapel
Mid, East and South Cheshire